"It's the good life....let's go on a living spree...they say the best things in life are free...The Good Life, it's feels like Atlanta, it feels like L.A. , it feels like Miami..." -
Good Life
-Kanye West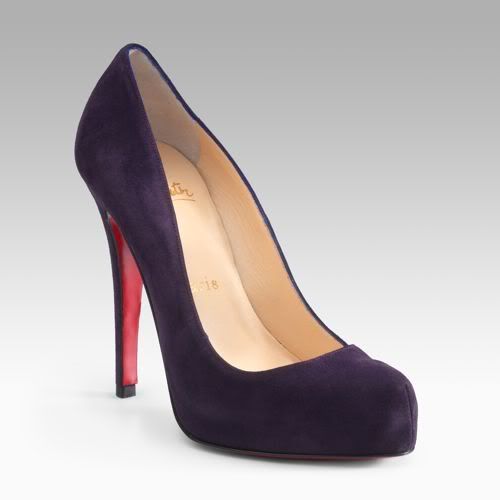 These FAT-ASS Amethyst Louboutin's-The Good Life Indeed
Hot dayum ya'll! Me and my girl hung out on Friday and had a
CERTIFIED.BLAST!!!
When I tell you I had so much fun with her that it ain't even FUNNY..I'm for real folks! Here's the deal.... I only have a FEW female friends and one of them (my girl Jen) is outta town, and the other's usually have busy social schedules and things to do or just don't feel like hangin when I do.
So, me and Diva had both gotten our hair done earlier, put on a lil lipstick and got ready to hit the town! We KNEW we were cute too! LOL She was flossin in her hubby's brand new black on black Lincoln MKX crossover and we were out! Where to go? We don't go out that often, so we really do NOT know of that many places, and also I do NOT wanna be near the 20-28 year olds either. Too young for me. So, we hit up a place that used to be a bar/club that was recently revamped into a sports bad and is owned by this guy who owns the salon where I get my hair done occasionally.
So, though we hadn't gon out in a while, me & Diva like this place and dedcided to go there or at least start there. But you see.... my girl,
DIVA
and I go waaaaaaaaaay back on the hang tip and whenever we hang I have a blast!! It just felt so good to have some drinks , some laughs and some fun in a social environment! I like , literally, almost NEVER do this anymore!
Then one of my BEST male friends, who goes waaaaaaaay back with me, MH, came down to the spot we were at, so we DEFINITELY had a blast. It's cool to go out with your husband, but since Diva and I haven't been out since I think LAST YEAR, it was overdue and DEFINITELY needed! Typically when we go out, I do not drink because I am ALWAYS.DRIVING. Diva usually does NOT drive because she be like "i don't know where I am going..." ...mmm-hmmm.... I can see why she does this: SO THAT HEFFA CAN DRINK!!!! I hardly EVER drink, but I must admit a few just loosen you up and help ya ass RELAX! Literally, I think the LAST time I had a drink was about 3 months ago and THAT was a Hummer (kahlua and ice cream). Well, not tonight babe! I had a NICE set (yes I said set) of drinks and she was the responsible one and only had a couple! I got a niiiiice buzz going and we kicked it and talked shit! We ended up just eating and chilling there all night.
The bar/club that we were at had some bangin music that was old school meets new school/meets my kinda groove!!!
And Diva understands me, that is why it is SOOOOOO much fun going out with her!!! Her husband always says (who is a friend of mine and how I met Diva in the FIRST through THIRD place!) "When ya'll get together....it's gon be some TROU-ble, TROU-ble!!!". If we weren't such good women, it would be.....lemme tell you. Me and Diva ALWAYS say "If I knew THEN, what I know NOW.....baaay-be...." LOL But serously. Diva is always there for me and I for her. We are very much alike in so many ways and I am so glad I met her!
And at the end of the night, this guy that I was sitting next to (but really had not even SPOKEN to) PAID our bill !!!!! WTF???? I was like "than you so much...what's your name?" He told me and come to find out me and him went to ELEMENTARY school together (yeah, I have a memory for things like that)!!!! I had not seen him SINCE then as we went to different schools after elem., but his face was the same! He said that once I started talking he remembered me as well (I too look the DAMN same since I was what...3 weeks old??lol) And get this, there was a guy who came over while I wasx talking to the guy sitting next to me and told Diva "I wanted to pay for your drinks and food, but the waitress told me that it had already been taken care of". Well, al-fucking-righty then!!! I guess me and Diva still got it!
And on Saturday, me and Diva and her hubby and his family went to see "Why Did I Get Married?" and let me tell you, if you like Tyler's movies, you'll love this one. I think this was the best one YET! My girl Angie in the movie was OFF DA CHAIN!!! I leaned over and told my husband "THAT'S yo momma!" LOL Cause on the Lo-Low.... I could SOOOOOOO see his momma going the FUCK OFF on a bitch like Angie did in some of those situations! LOL
We came home and today I have just chilled out and relaxed. Right now, my fam is watching football at a friend of my husband's house. He takes my son because there is a boy his age there, so EVERYBODY has fun and Momma has a few hours to fuckin chill by herself since I
STILL HATE
football. Don't get it twisted....
Still high off the weekend and Diva..... I'm STILL fucked up! LOL
Carry on people!