Hey there!
Me and my gurls went out AGAIN.... this past Friday. We went to the SAME club/sports bar that we went to last week and had a blast again! See below: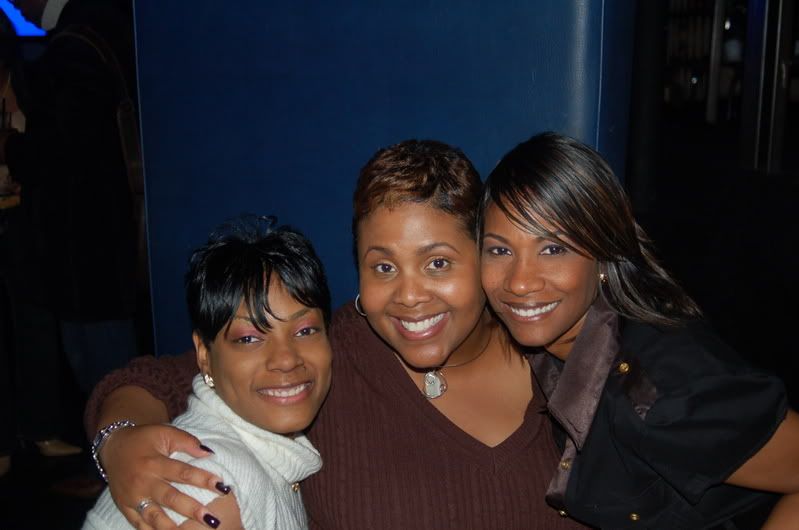 (DIVA, Me , Tee)
But whyyyyyyyyyyyyyyy was I looking all "greasy" and my girls were looking cool and colleceted??? because MY DUMB ass wore a dayum SWEATER up in that joint and it was hot as hell on fire!!! LOL
This was a lil different though because there were waaaaaaaaaay more people there because it was the "2nd" grand opening of the place! So there were people wall-to-wall.
Good times were had by all! I saw some people I haven't seen in a WHILE and had fun chatting it up with them!
On the job front, I still have not found another job, but I am still looking. I am also seriously contemplating REALLY trying to expand my photography ability and go ahead and take some classes and go ahead and get my photography business going.
My husband pointed out something that my best friend and a few others have said: You don't LIKE working a 9 to 5 for someone else! While that is true, I struggle with the who idea of being able to do what I want to do and have the lifesyle that I have while trying to "build" my photography. I CANNOT stop working! For real.
So, while I like "some parts" of HR, I want to hone my photography and get better at that and make THAT my livelihood. I was looking in Black Enterprise last night and this girl made a shop that is a nail/pedicure salon into
this cute, eclectic spot in Brooklyn!!
Now THAT is what I am talking about!
Moving on and into something new (while also looking for a new 9to5 in the meantime! I mean a sista GOTTA eat!!) LOL