CONGRATULATIONS CHER JOY AND BUTCH!!!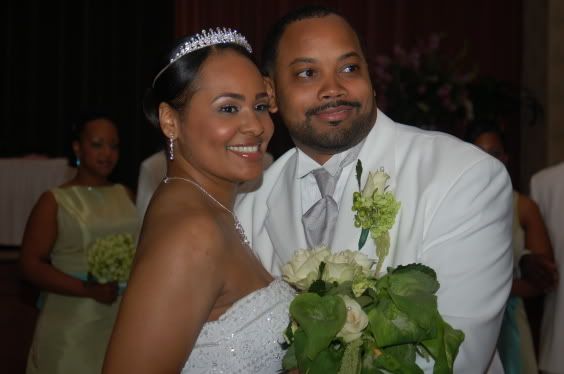 My niece got married on Saturday and it was a joyous occasion for all who shared in this day! I am so happy for her and her new hubby. She is 23 and has been with him for 9 years…..no, that is
NOT
a typo….. she has been with him
for NINE years
.
Wow, that's longer than some people are married (hell than a lot of people!). But I am not surprised. My brother (her father) and her Mom have been married for 35 years and are only 53 and 52 respectively.
Now, I'm not saying that they haven't had their problems, cuz I'm sure they have. I am saying that they made a commitment to stay in this marriage for what ladies and gentlemen…..for better or for worse. That and I think that they found each other so young that they ain't know too much more!! HA!!!
As I think about how proud I am of her I reflect……….and (as Zed so eloquently put) am a little sadder and a little older today…..this was my baby girl, my little shadow when I was late teens/early twenties. I remember she used to come over with her mother or father at the ASS CRACK of dawn (because as you know allllllllll lil kids get up RARIN' to go at the ass-crack of dawn……well, so did my brother and sister-in-law…….there should be laws against it, really…). Well, I was a total teenager/college student in that I didn't RISE until AT LEAST noon! I would be SOOOOOOOOOOOOOOOOOOOOOOOOOOOO PISSED at her coming in and fucking waking me up. I swear sometimes I wanted to throw her little 4 year old self down the stairs! And my door DIDN'T have a lock on it, so all her ass had to do was open the damn door! DAMNIT!!! I remember when she and her brother would come over and all THREE of us would sleep in the bed (queen size) together and would get kicked in the head and wake up with a leg sprawled across my face. LOL
But look at her now…… beautiful beyond measure and classy beyond her years. So, as friends toasted and made us cry at the sentiment expressed, we rejoice in this new union and new life ahead of two very special people.
I am now not only an aunt, I am her friend, and I am lucky to have her. She's not my "lil niece" who everyone used to ask me if she was my daughter when I was like 16, because we looked so similar back then. Now, she's married. Now I know why parents feel that mix of happy and sad when their kids grow up……